Like many folks, I've been binging Marvel United's first season of content, while watching gleefully as the characters from the X-Men Kickstarter are unveiled. My first (completed) project for the game is a simple villainous plot track to help keep Red Skull's cosmic cube in the right spot.
Designing the Track I really only had two requirements for this project. It had to be see-through so I could continue to enjoy the graphic design of Marvel United, and it needed to help keep the fiddly little cosmic cube token in the right spot. I went with some thin acrylic that I could cut a series of square holes in.
The most tedious part was measuring everything out and figuring out how to place the cube slots accurately. The key measurements I gathered, using a set of calipers were:
200 mm wide
90 mm tall
Cubes start 16 mm from the bottom edge and 10 mm from the right edge
Cubes are 9.7 mm squares
There are 1.3 mm between rows and 3 mm between columns
Using all this info, I laid out the design, which you can download as an SVG here.
Finished Villainous Plot Track in Action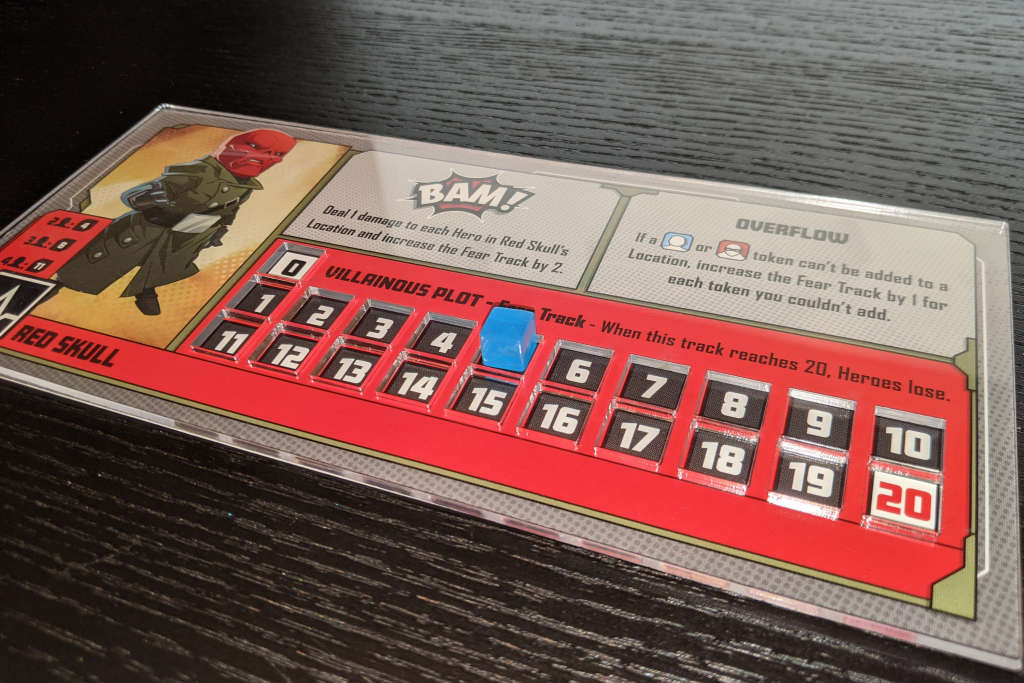 Sometimes it's the simple projects that bring the most joy. This one was quick, but it a few small issues I had with the game. Besides keeping the cube in place, it also takes the curl out of the flimsy villain board. But thanks to the X-Men Kickstarter, that won't be a problem sometime next year.
---

Thank you to all our Patreon supporters who help making this content possible, especially:
Dan (KennedyHawk)
Chris C.
---
If you'd like to support the site, you can use the Amazon affiliate links below. As an Amazon Associate I earn from qualifying purchases. Funds from these links go towards supporting this site.