After an overly long and only minorly stressful move, I'm back to crafting! Today I'm adding some gaming decor to the dungeon I call home now. This laser-cut gaming door hanger is going to set the tone for my new house and the gaming I plan on doing here.
Design Phase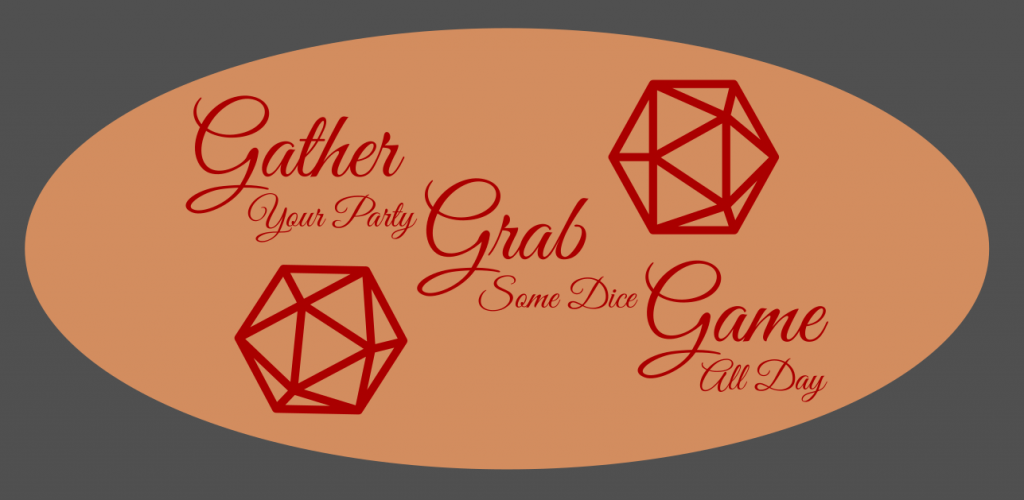 In case it wasn't clear, this is a bit of a parody of the infamous 'Live Laugh Love' signs, but with a D&D twist. I spend a while sifting through those designs to get some ideas for how I wanted to lay this out. Eventually, I settled on all the sizing, spacing, and most importantly, a font. It just wasn't enough though, so I added some d20s to give this gaming door hanger a bit more character.
Constructing My Gaming Door Hanger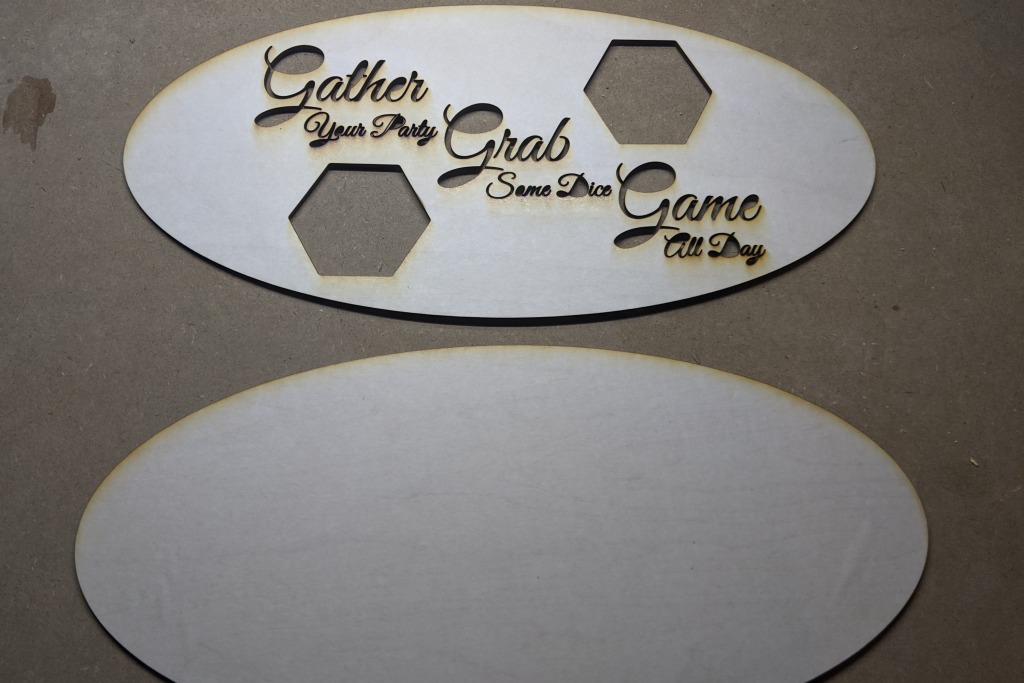 I cut everything on the laser cutter, keeping all of the extra cutouts to use as spacers later. I used 1/8th inch maple plywood since I planned on staining the final product. A generous helping of wood glue connects the back oval and the majority of the face.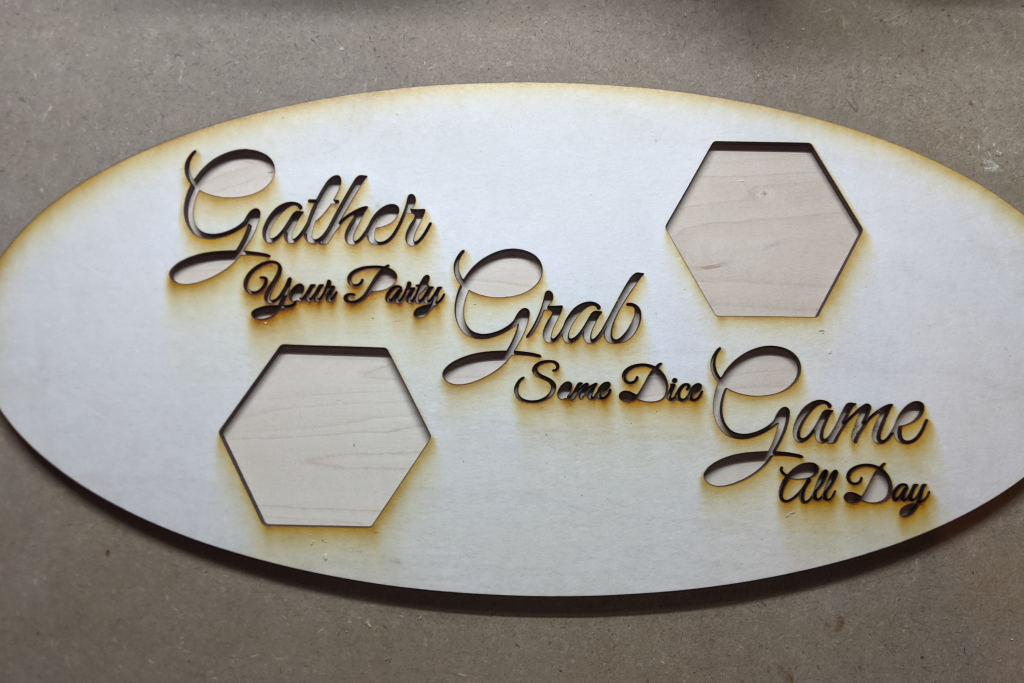 Once the back and face are glued and adequately dried, I inserted the cutouts back into their holes. Since the design uses negative space for the lettering, I need to use the enclosed whitespace inside the characters as spacers. These enclosed pieces of whitespace, like in the middle of an 'O', are called counters. A few of the counters were a bit too small and basically disintegrated when I took them out. I tried a few times, but couldn't get the smaller ones to work, so there are a few omissions.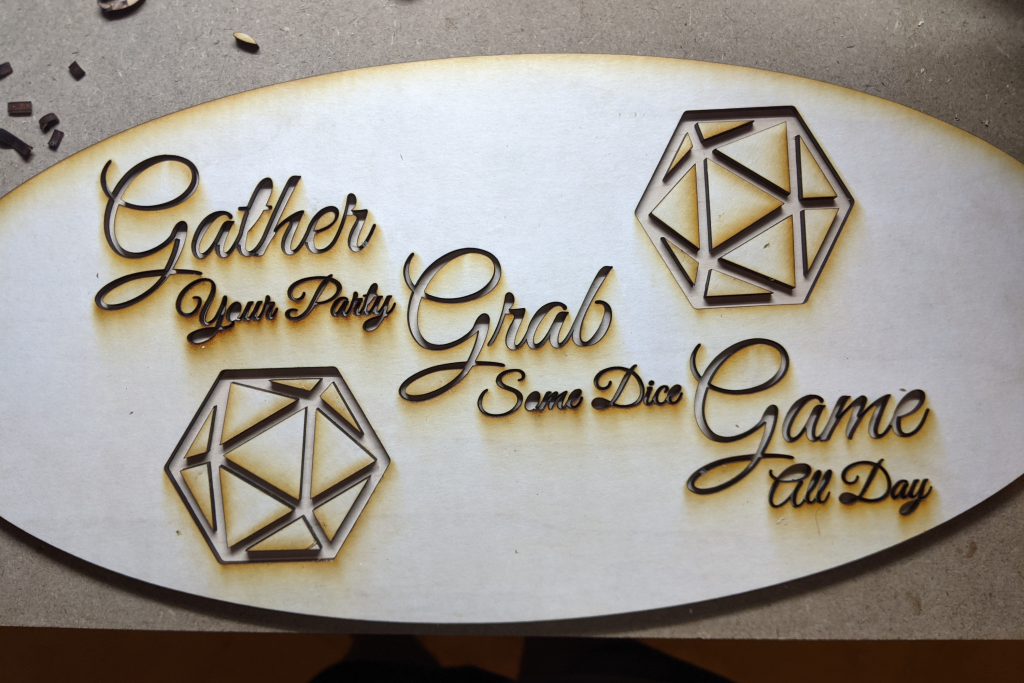 Regardless, once your spacers are inserted (but not glued!), glue the counters into their respective holes. Then with a pair of tweezers, gently extricate your spacers and remove any leftover masking material.
Finishing Up
Once all the pieces are glued down and let to sit for a while, all that's left is to apply a nice coat or two of finish. I went with a stain and polyurethane combo product to save on time. The color is called pecan, and I'd definitely recommend a few coats. Staining is boring and I forgot to take pictures. Sorry!
Wrapping Up and Lessons Learned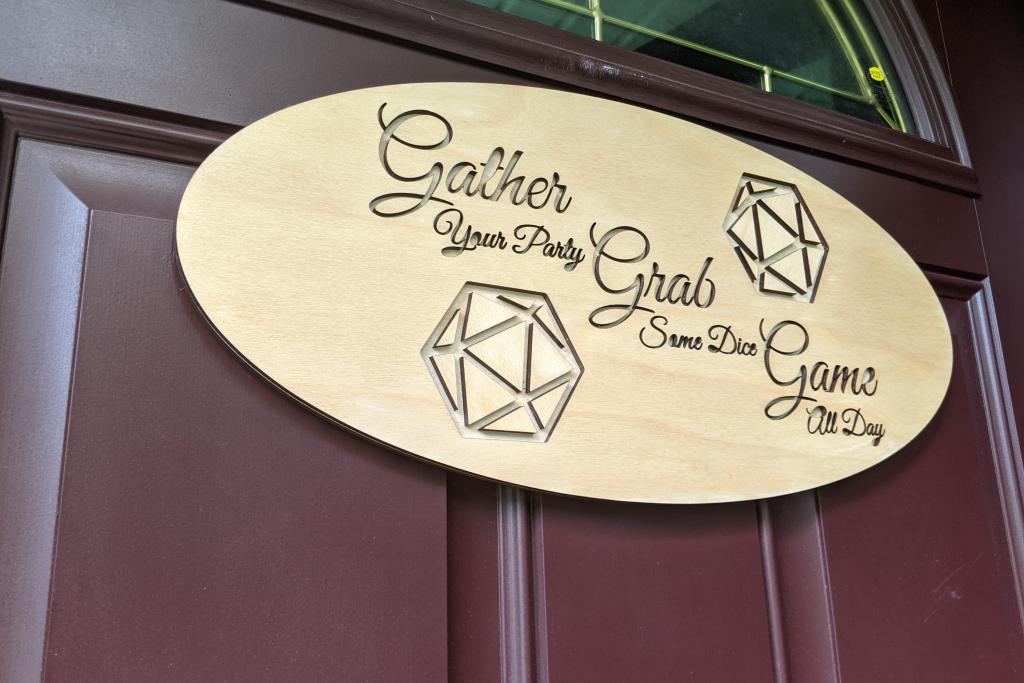 All that's left is to display this beauty. With some command strips and my trusty level, I hung the finished project on my front door. While I mostly do board game accessory projects, I think this project will be right at home next to the bookends I made.
There are a few issues I'd fix if I could do my gaming door hanger again
As noted above, the font has some tiny counters that just don't work with a laser cutter. The loopy font is so great, but the smaller text left some of these pieces unusable.
The d20 cutouts got jumbled after cutting. I was able to figure out how they should sit, but they still had masking adhered when I glued the pieces down. So I didn't realise that their grain direction was wrong.
I originally wanted to fill the negative space with some colored resin. The smaller than expected gaps kinda thwarted me there.
---

Thank you to all our Patreon supporters who help making this content possible, especially:
Dan (KennedyHawk)
Chris C.
---
If you'd like to support the site, you can use the Amazon affiliate links below. As an Amazon Associate I earn from qualifying purchases. Funds from these links go towards supporting this site.